GCH Oakbrook's Ono Here Comes The Wave HIC CA NAP NA OA AX NAJ (CHIC #94673)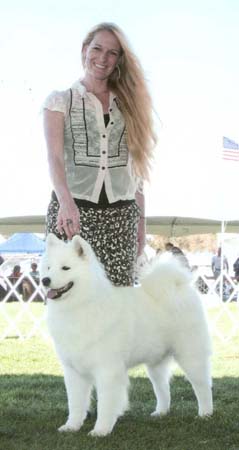 Pismo is out of an extra special litter. We bred Kahlua to Ono's frozen sperm for the first time since his death 7 years prior. Brianna and Heather co-own this girl and they made a pact when she was born that Heather would get to show her in conformation and Brianna would get to train and show her in agility. In her first show at exactly 6 months old, she took a reserve to a 5-point major! She took 2nd place in Futurity at the 2009 National Specialty and 3rd place in Bred By at the 2010 National Specialty. She finished her championship with two 5-point majors in very limited showing. She is now training for agility and made her agility debut at the 2011 National Specialty where she got a Double Q in her first trial! She also obtained her HIC Herding title at the same National. She placed #2 Brood Bitch and #2 Nov. Working Sweeps at the 2013 National Specialty. We are very pleased with this well rounded girl!
Pismo is a wonderful mother and has been bred 3 times with Champion get in the ring. She is an absolute sweetheart and loves to nurse on her stuffed animals. Eventually, she will also be trained to be a therapy dog. In the meantime, we are enjoying agility and still show in conformation here and there.