GCH CH MACH2 Oakbrook's Cream Of The Crop MXG MJC OF T2B2 CAA CGC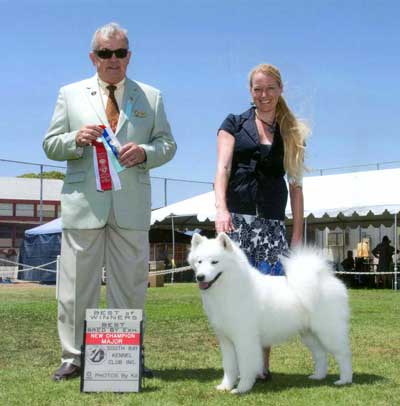 Pele is out of Kahlua and Wasabi. We bred this litter with Pele in mind and she definitely delivers! She is owned by Tabitha Teutsch, William Bell and co-owned by Heather and Brianna. This was Brianna's first breeding and co-owned dog at the age of 10. Pele is named after the Hawaiian Volcano Goddess that turns into a white dog (not the soccer player!) Her AKC name came from the fact that she lives out in the middle of the crop fields of Camarillo. She grew up with her mother, Kahlua, and now lives with her half-sister, Kona, daughter Suki, and soon to be son-in-law, Riot.
Pele's first match she went Best In Sweepstakes and Best In Match! It was a very fun day for her owners and their very first show dog. Pele finished her Championship in August of 2009 going Best Of Winners and Best Bred By where she won the Bred By Working Group. Pele went 4th place in Sweepstakes at the 2008 National Specialty. She placed 2nd in Novice Agility at the 2009 National Specialty and 4th in Working Sweepstakes and made the final cut for Best Of Breed at the 2010 National Specialty. At the 2011 National Specialty she placed #2 in Working Sweeps. At the 2013 National Specialty she placed #1 Adv. Working Sweeps and #4 Brood Bitch.
She has also completed her Grand Championship. Her first time out as a Veteran, she took Best Veteran and Best Veteran in Sweeps! She is a very athletic dog and is now enjoying an agility career. Tabitha has been training and running her in agility and they make a great team that are now working on their MACH title.
Pele has been bred twice and now has Champion offspring that we are very proud of!