CH. OAKBROOK'S STRIKE IT RICH, BISS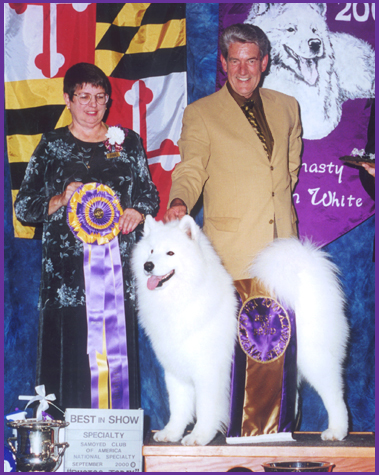 12 December 1997 – 13 December 2001
We were fortunate to have bred, owned and shown Ch. Oakbrook's Strike It Rich, BISS our beloved "Ono". He was Grand Futurity Winner and Sweepstakes winner at our 1998 National in Escondido, Ca, the first Samoyed to have the honor of winning both in the same year. He went on to win Best In Show at the National in 2000, and went Best Opposite Sex as well as 1st in Stud Dog in 2001. He was an outstanding example of the breed. He was our friend and companion. He was also the #1 dog in the country breeder/owner/handled with no National advertising. That is quite an accomplishment! He was truly a once in a lifetime dog.
We lost Ono December 13, 2001, one day after his fourth birthday, on the return flight from the Inaugural Eukanuba Classic in Orlando, Florida. It was a big honor to be invited as one of the Top 5 in our Breed. He went Best Bred By while there and on the way home, American Airlines placed him in the wrong compartment where he froze to death. This was the first and only time we have ever flown a dog (and quite obviously our last). We did all the things we were told to do to keep our dog safe and still, he was killed. Over 5000 animals A YEAR are lost, stolen, maimed or killed on airline flights. PLEASE NEVER FLY YOUR DOG AS CARGO! If we can save at least one animal from dying this way then we will keep preaching the dangers of flying animals. It is not worth the risk of your loved one!
We have many "Ono" sons, daughters, grandchildren and now 6 or 7 generations that are being shown and doing wonderful things in the show ring. We are very proud of all that he has contributed to our wonderful breed and is greatly missed. We will never have another like him.