CH Oakbrook's Garden Party CGC CA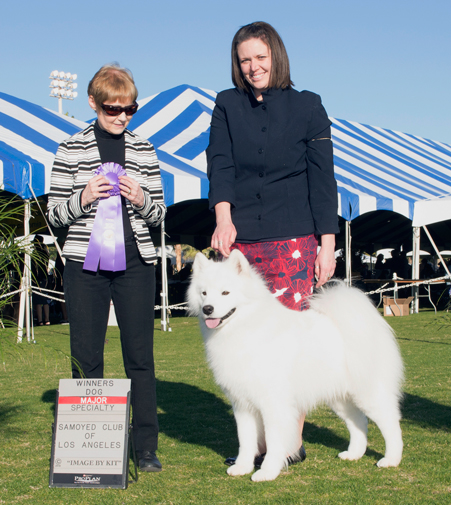 You can find Niko on Instagram @thesmoochpooch 
Niko is owned by Angela Capodanno, who went to elementary school with Heather. They reconnected 25 years later, when Heather noticed a Samoyed in one of Angela's social media photos. After Angela said goodbye to her senior Samoyed of almost 16 years, Tabitha and Heather offered her a puppy from Pele's second litter.
Niko is Angela's first show dog, and the only one from his litter currently in the show ring. Niko got a great start with a 3 point major at his very first show! In 2016, he won a Specialty Major, going Winners Dog at the SCLA Specialty in Palm Springs. He also took Best of Winners on both days of the Silver Bay Kennel Club show, becoming a Champion on Oscar Sunday. In his spare time, Niko enjoys living up to his "Garden Party" name by making a muddy mess in his garden. Give him a hose and a little blue plastic pool, and he's in heaven! Niko is a big personality, with an even bigger tail and a very friendly disposition. He enjoys giving out free kisses and making new friends at the dog park.
Contact Us
Stud Service Available to Approved Bitches
Please contact us if you are interested in stud service.
Contact Us