CH. OAKBROOK'S SEXY LEXY, HIC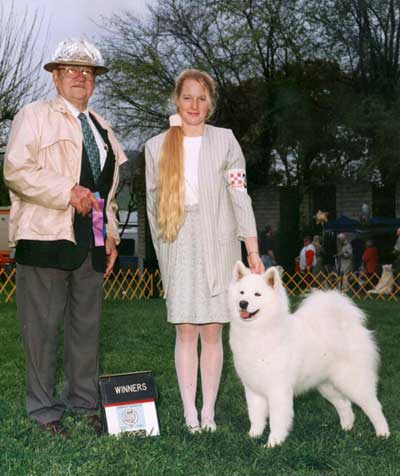 21 September 1995 – 30 January 2011
AKC: WP659157/12

HIPS: SA-11886G41F-T

CERF: SA-2874
Natasha Noel O Shadow Mtn
Heather and Michael Kelly
Lexie was the pick of a Drifter litter with one of the late Shirley Ramsey's girls, "Natasha". Jane and Kathy went to pick her up in Arizona and brought her home to go to her new family to be named "Molly". Well, this new family had a change of heart at the last minute and Jane & Alan were going on vacation that weekend so Heather stepped in and offered to take care of her until they got back. That was all it took for Heather to fall in love with this little miniature version of Drifter. Heather's husband was not quite ready for a dog at the time and made Heather choose between getting her new car or keeping the dog. Duh! Heather kept the puppy and renamed her "Lexie".
Lexie was also Heather's first show dog of her own. Alan taught her everything he knew and sent them into the show world to give it a try. Lexie was a natural and was a great first time dog to have. She got both of her majors in the pouring rain which was a big compliment on her movement. In the middle of her march towards her championship, Heather got pregnant with Brianna and showed the dog until she was no longer able to waddle around the ring and do her justice. Alan wanted to continue to show her while Heather was out of commission but Heather was determined to finish her Championship all by herself. She was down to one point left and achieved that at the Long Beach Kennel Club show.
Lexie was Heather's foundation Brood Bitch and went on to produce 2 litters. Lexie was Ono's first love and first wife. Her second litter was with Ono's half brother, Rudy. She produced 4 champions out of 9 children. She was a wonderful Mother and had very easy births.
Lexie was one of those dream dogs that can be trusted with anyone, anything, at any time. She was rarely on a leash (even on walks around the neighborhood!) and was a very well behaved dog. Her last show was at the Riverside Nationals in 2004 where she showed in the Veteran class after about 5 years out of the show ring and showed like she had never left it.
We recently lost Lexie at the age of 15 years and 4 months. She holds the title of oldest Oakbrook dog and one of the best we have ever had.