CH. OAKBROOK'S IT WAS MEANT TO BE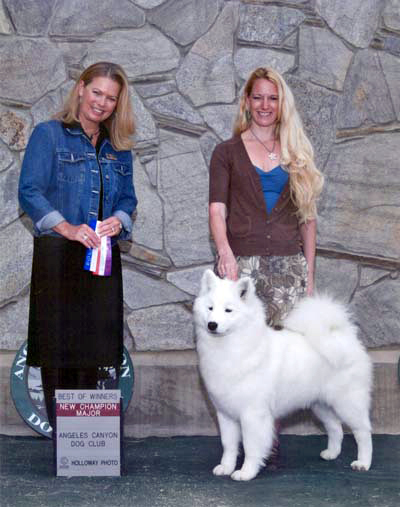 Faith is out of Kahlua's first litter with Digger. She is owned by Leslie Maunu and co-owned with Heather. We have the pleasure of living right next door to Faith! Leslie is Heather's best friend and she always comes over to visit when we have pups. She had her eye on "yellow girl" the whole time because of her sweet nature and submissiveness. Another breeder was choosing between her and "green girl" so I didn't know if she would be available. When the other breeder chose the green girl, yellow girl became "Faith", Oakbrook's It Was Meant To Be because sometimes it just is!
Faith went Best Puppy at her debut dog show in January 2006 and went on to win the Puppy Working Group. She again went Best Puppy at the 2006 San Diego Specialty under breeder/judge Rudy Munoz and the next day did it again and went on to win the Puppy Working Group. Faith finished her championship with back to back majors and now enjoys retirement from the show ring. Leslie was very gracious to let us steal Faith on occasion to go to the shows and also let her live with us when she had puppies. She had 2 beautiful litters, one in 2010 and one in 2011. Now her kids and grandkids are out in the ring. She is enjoying the companion life with her family! Thank you Maunu family for sharing this sweet girl with us!
AKC: WS13869303

HIPS: SA-14676E28F-PI

ELBOW: SA-EL795F28-PI

CERF: SA-5927
Heather Kelly

Leslie Maunu