CH. OAKBROOK'S PANNING FOR GOLD, BISS, HIC, NA, NAP, NJP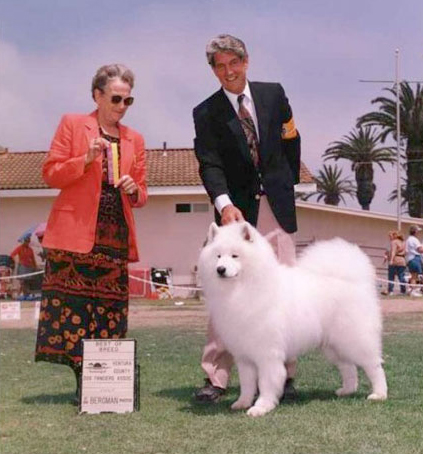 1 October 1994 – 14 September 2005
Digger is out of Drifter and one of Nancy Rathgeber's beautiful girls, "Touche". Touche had 11 puppies in that litter! Well, Jane & Alan happened to be on vacation when it came time to go pick him up. Since Heather happened to be in San Diego that weekend, she volunteered to pick him up and bring him home. When she got there, he was the only puppy out of 11 that was digging his way to China, hence the name "Digger". Jane & Alan had yet to name him and calling him "puppy" was getting old. By the time they got back from vacation, he knew his name very well! They didn't like it but it kind-of stuck. We tried to build his AKC name around his new call name and came up with Oakbrook's Panning For Gold. Digger was our first Oakbrook named dog.
Digger won the Grand Futurity at the Austin, TX National Specialty in 1995. He also placed 2nd in Stud Dog at the 1998 National Specialty. Digger finished his championship very quickly and we showed him as a Special here and there but he really didn't like it much and dove for the exit of the ring every chance he could get. As much fun as it is to win, we quickly gave up with him because he was not enjoying the experience quite as much as we were.
After we lost his son Ono, Jane, Alan and Heather were having a really hard time gathering much enthusiasm about the show dog world anymore. Heather happened to have a girl at home, "Sunshine" that was bolting out her front door and getting into trouble out of sheer boredom and Digger was becoming a couch potato so Heather convinced Jane to give the sport of agility a try. We needed to be active with our dogs but surrounded by a whole new set of people that didn't know us or our dogs or our history. What a refreshing experience! It is a really fun sport to be involved in with wonderful people supporting you. Jane went on to receive 3 different agility titles on Digger and fell in love with the sport. Now the whole family is training at least one dog in the sport.
Digger was also nicknamed "Forrest Gump" because he always seemed to be a blank slate and could be a little on the dingy side. We thought that until we started him in agility and boy did he prove us wrong! He was actually really smart and liked to fake being dumb! He was the sweetest, most gentlemanly dog we have ever had.
Digger is the Samoyed face on the Natural Balance Frozen Dog Food box. He has also been used in different advertisements and is one of the Sammies on the Samoyed T-shirt sold nationwide.
We said goodbye to Digger before it really set in that we were losing him. He was not feeling well on a Friday and by Wednesday the next week a tumor that we didn't know about had burst inside him and he was gone. His last litter was 10 weeks old at the time. The entire litter looks so much like him so he lives on through his children.
Contact Us
Frozen Semen Available to Approved Bitches
Please contact us if you are interested.
Contact Us